Written by Diana Calvo Martinez, 12-31-2018
Families picking a Christmas Tree; the lingering smell of pine cones; a cup of hot chocolate on a cold night watching the Geminids meteor shower; grandma's gingerbread cookies fresh out of the oven; dad and mom reading A Christmas Carol by Charles Dickens close to the fireplace while the kids make S'mores; family and friends watching It's a wonderful life; kids excited about lighting the Chanukah menorah: surely, sublime.  For graduate students though, the story is slightly different.
I came to the U.S. full of excitement to be a graduate student, still not believing how lucky I was to be accepted in my program. Today, the excitement and astonishment remain, but they are accompanied with sentiments of nostalgia and reminiscence.
Colombia is a country known for festivity and extroversion, and this is surely not an understatement. We have eighteen national holidays, all of them with a day off, usually moved to Monday, so we can celebrate across a long weekend. These celebrations can be as simple as a trip to grandma´s house or family meal, or as grand as a behemoth carnival where we dance until dawn. We do not have seasons, so the fun can be outside all year long.
For Christmas, the celebration does not wait. We are a laic country, but 94% Christian. People get so excited about the holidays that Christmas decorations start to appear in October. Schools, companies, and offices encourage the holiday spirit with innumerous gatherings and parties, decorations, and, of course, tons of food. Entities big and small, public and private, have a break that starts before Christmas continues until the Coming of the Wise Men on January 6th (also a holiday).
We have an impressive tradition in Colombia, called the "Novena de Aguinaldos" (Christmas Novenary) wherein, nine days before Christmas, we relate the story of Virgin Mary's pregnancy journal until she gave birth to Baby Jesus. In my family, the Novenary is a big deal. I have seven uncles and aunts, so we gather each day in a different house. We have food and drinks, we sing all kinds of music together, we play outside, we dance, and finally, we tell the story of the day according to the Novenary. I am not the most religious person, but I love to be with the family, seeing them for nine days and having laughs with my cousins.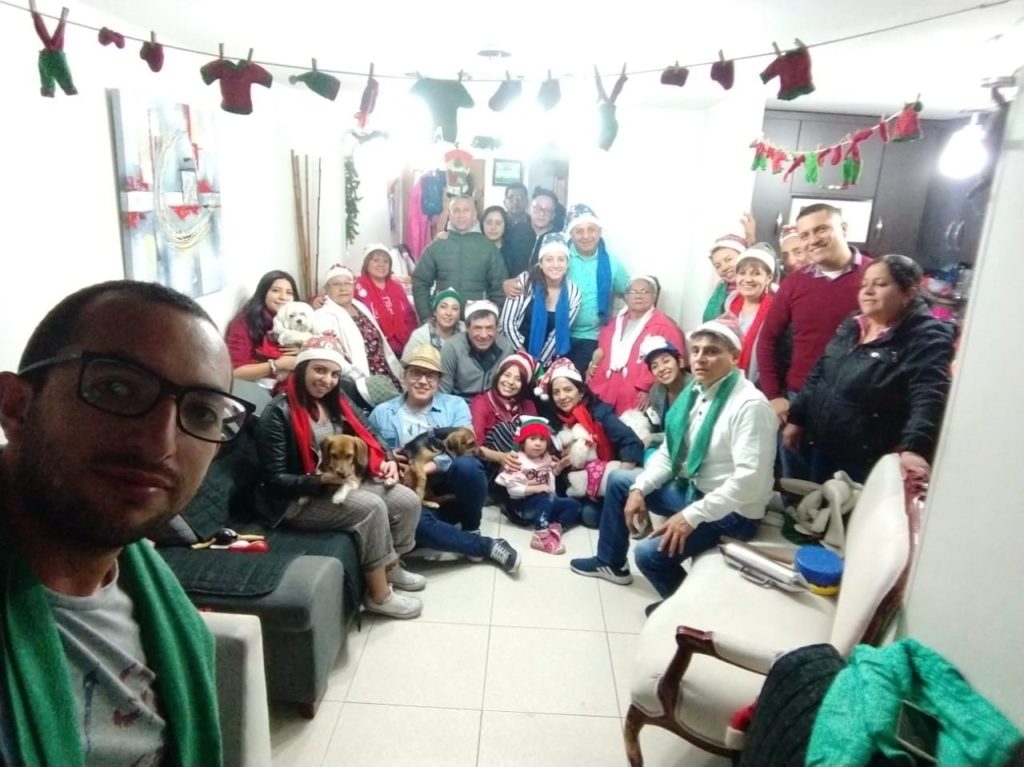 My family in one of the Novenas 2018
In the U.S., going to get the Christmas tree, having an amazing family meal on the 24th or 25th and gathering together to open presents, are the most usual activities. As one former student narrates: "There's nothing like seeing the -kids- faces' light up on Christmas morning and watching them play with their gifts".
In Mexico Christmas is not small either. They also have the novenary, in the form of Posadas. People usually gather in the neighborhood to have a religious observance for nine days, having dinner and praying. Francisco Brown-Munoz relates: "For me, spending Christmas with my grandparents, my parents and my brother is the most important thing. We also do the posada with my friends, a tradition that we have done since I was in elementary school".
Of course, Christmas and New Year are not the only holidays. "I'm a big Easter fan", says one of our alumni. "When I was growing up, Easter really marked the transition between winter and spring. We'd color eggs the night before, then hunt for them Easter morning after the Easter bunny hid them. Everyone had citrus trees, and you could smell the citrus blossoms everywhere. It was the most fun and casual of the family holidays." Francisco also mentions how Easter is big for his family. Isaias Peraza-Baeza, a fellow Mexican graduate student, mentions how the biggest holiday for him is the Día de los Muertos Maya (Mayan Day of the Dead), besides the carnival in his town, Dzilam de Bravo.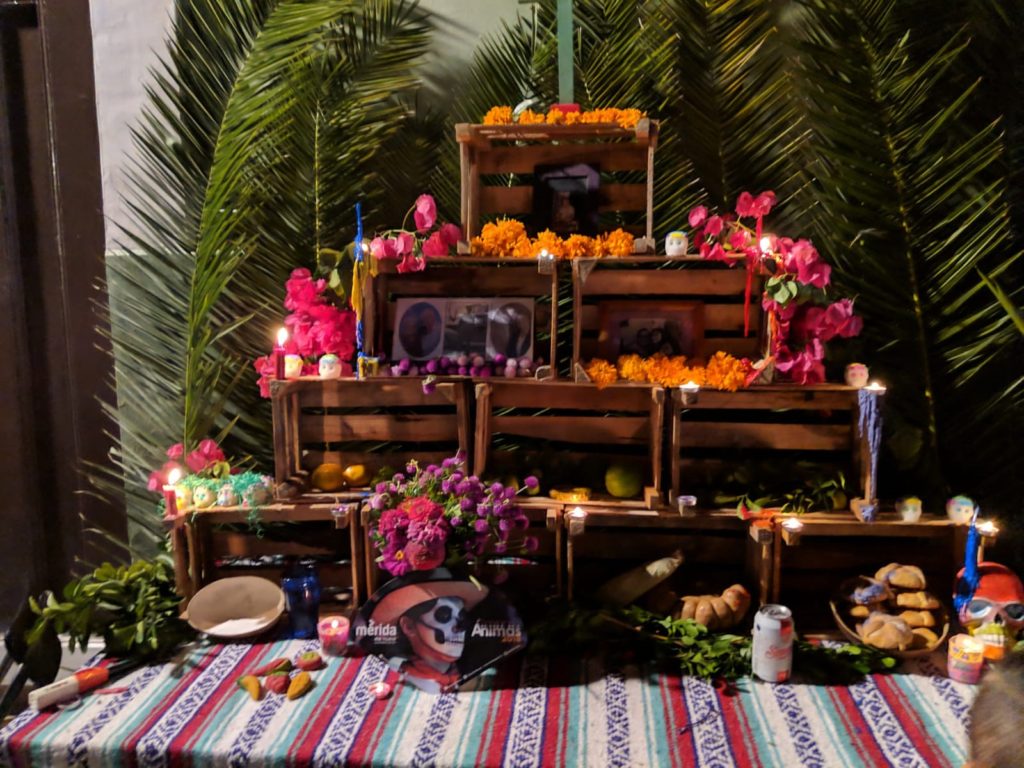 On the other side of the world, things are not so different. Dongwon Ki, a Korean alumnus, mentions several holidays that are important for his family: Christmas, New Year, Lunar New Year -also known as Spring Festival- and Thanksgiving. Then he meditates and says: "I guess the bigger ones are the end of the year holidays, because many people gather and meet." Chenwei Zheng, a Chinese fellow student, also mentions how big is the Lunar New Year for her: "Spring festival is the lunar first day of a new year for Chinese. Families will get together to celebrate it." Finally, Vineet Awashti, an Indian fellow student, mentions how Diwali (Festival of lights) is for him: "It is when the family gathers to meet."
No matter where you are from, what your beliefs or religion, there is always a time in the year that you get closer to your family and your friends, a time when you celebrate life in one way or another. This gets difficult to do when you are a graduate student with several obstacles to deal that keep you from loved ones. These obstacles vary from money to time, as many are unable to leave the lab because of on-going experiments. Sometimes your home is too far, sometimes the ticket is too expensive, sometimes you are overwhelmed with tons of writing to do, or a reverberating noise in your head saying: "if I leave, my experiment dies". At the end, you may even encounter desperate feelings of loneliness and frustration. Well, you must know, you are not alone.
We as graduate students have big responsibilities in school and too many reasons to be apart from our loved ones, so being homesick is common. Francisco mentions: "When the semester is about to finish, it really hits me, I miss my family, my friends and my town". There are plenty of times when you miss your loved ones, and there is no specific season for it. Another fellow student also mentions: "I miss my dear loved ones every day and one burning desire to finish is so that I can get back to them."
I have been extremely lucky to count on amazing people since the first day I came to the U.S. During my first Christmas, I went to Miami with some family friends. Even though it was a beautiful gathering, it was the first end of the year that I was having far from my family. It immediately hit me. As my husband says: "the first time you are not with your family during the holidays, something gets missed inside you". Second, third, fourth year, again I was lucky enough to be with new friends. An alluring classical Christmas concert at midnight; watching my best friend playing the trumpet angelically; me, seated in the middle of a church around seniors, reflecting on life, family and purpose; at the end, my best friend comes to greet me. Little did I know then that my best friend would become the person with whom I would spend all my holidays, together with our child.
On the other hand, even though you don't celebrate Christmas or New Year, the feeling of an empty lab touches the meaning of phantasmagorical: there are not many people around, so you must move your arms every five minutes to activate the sensor lights. We are social, we need people around, and even if sometimes we need solitude to be productive, solitude can also become too much to handle. Then there is what we call "home" here. Most graduate students live by themselves, which can be hard during winter break. One of my fellow students narrates: "I spent -Christmas- in a new apartment with no furniture. It was a dry cold day and the dull winter light made the empty streets feel especially glum".
But there is not the end of the story. By managing a few key aspects in your life, you can spend holidays (or any time during your studies) with less melancholia and more time with your loved ones. I do not consider myself an organized person, I am very forgetful, and I misplace everything, but I am trying to get better at this. In this journey, I found that if you really get organized, you can accomplish so many things without sacrificing what you love.
First, get better at your finances. Yes, I know, even though our professors do their best to give us as good a stipend as they can, the life of a graduate student is far from luxurious. We usually live from paycheck to paycheck. But if you track your expenses, save a tiny portion of your check biweekly, use apps like Olivia® or Personal Cap®, you might find at the end of the year that you have enough money to travel. If the ticket is too expensive, you might travel every other year. It sounds almost too easy, but once you track your finances, you realize how many sinks you have.
Second, get better at organizing your time. It is very common in graduate school to spend hours and hours in the lab or on the computer, finding at the end of the day that you did not do much. As Ryder Carroll mentions in his book The Bullet Journal Method: "Being busy does not necessarily mean being productive". What I am saying is that it might be possible for you to make time for a trip. Sofia Esquivel, an alumna in our center, was able to spend almost every Christmas with her family, even though she was working with long-term biotic experiments. I remember Sofia telling me "We always spend Christmas together, no matter where we are, so I'll do my best to continue that tradition." Sofia had an outstanding dissertation, she did amazing work and covered all the responsibilities that her advisor asked for. My point is, try to look for a method which helps you to be efficient, so you accomplish more in less time. I am now exploring the Bullet Journal Method, and I have high expectations for it.
Third, create a social network. Sometimes it is really very hard to get out of the lab or away from your responsibilities to go home for a little while. As Chenwei mentions, "I missed my family at -Spring Festival- especially because I have to take courses here at that time." For those cases, look for people that you share something with. It could be people from your home country or people with similar interests. One fellow student embraced the Christmas spirit last year: "Shoving that 8-foot -tree- into my tiny -car-, I felt vaguely like the Grinch as he rammed the Who Christmas tree back up and out the chimney." This student was far from a "Grinch," getting stockings for everyone, having a big Christmas day breakfast, and even taking a road trip. "Presents tucked under the tree, hot chocolate, a warm dinner… It was the first Christmas I had put on myself and my absolute favorite." On a personal note, after my reflections in Church during the Christmas Eve concert, I started to gather people around. It became a tradition to have people in our home for thanksgiving, Christmas, Easter or any other big holiday. We always invite everyone that want to come, no exceptions. It might be expensive to feed about 40 people, but you can do a potluck too. For Christmas, we do the novenary, a little less religious, but we still get together for nine days with Colombian friends. Every day, a different house. We have been doing this for three years, and this has helped us to have a little bit of our country in the U.S.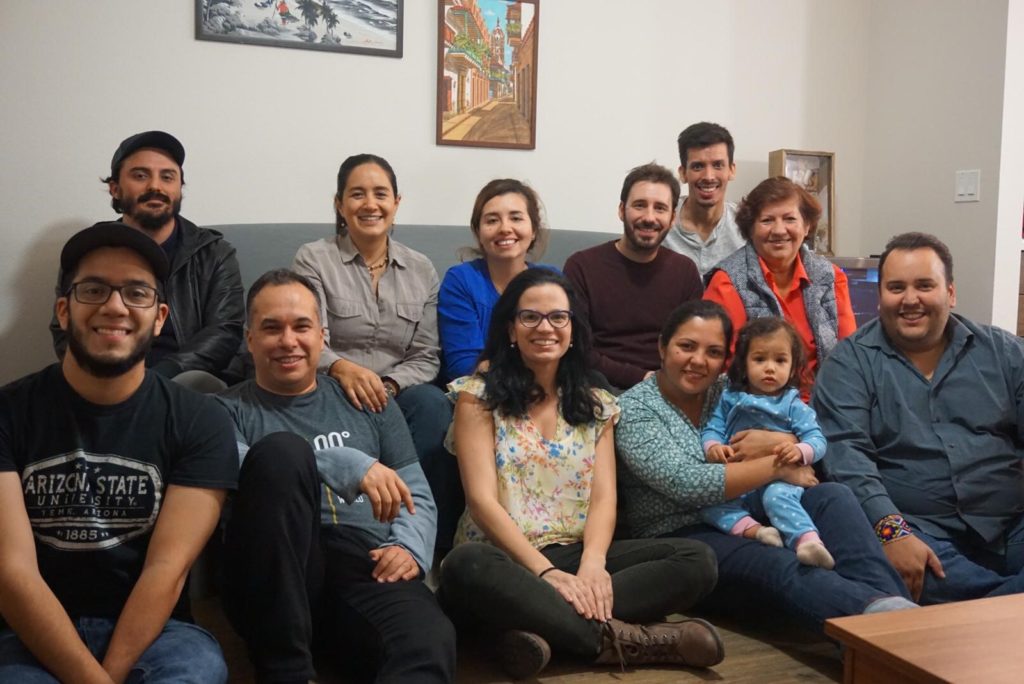 Our novenas in the U.S.
Now, you might not feel like doing any of these. You just want to be at your place, and that's ok too. Just remember, you are not alone. You have people around that care about you, you have a school with several resources and professors that are there to support you. ASU has the ISSC, which creates several spaces for international students during the year. The school also offers Wellness Resources and Services, including health services (massages, nutrition and acupuncture included), fitness (including yoga), and counseling, which is there 24/7. In our Center, administration and PIs do their best to keep up the Holiday spirit with several gatherings, as the birthday cake every month, the end of year parties, white elephant, among others. Take advantage of those resources, they are there for you.
We sometimes take things for granted, so maybe nostalgia is not such a bad feeling, since it makes you realize how fortunate you are when you are with your loved ones. Don't worry. You will get together again, sooner than later. Embrace the time you are here, there are a very small number of people fortunate enough to be where you are.